Are you asking for the sale too early?
You will have heard statistics along the lines of the average buyer requires 5-12 contacts with a company before feeling comfortable enough to make a purchase. That's difficult enough for us as business owners, but if you want a referral you have to work even harder.

If one's to risk putting their own good reputation on the line by introducing you to a close friend or family member they have to be doubly sure you won't embarrass them.

Your average buyer requires a certain level of trust with you before they buy, we all know that. Some say, "People buy people", which is true. However, in today's ever more complex marketplace, you frequently have to go further with a prospect to assure them you'll not just solve their problem, but that:
you'll also look after them after the purchase and
that they're not making a mistake doing business with you.

Here are the typical buying stages required, as created by John Jantsch...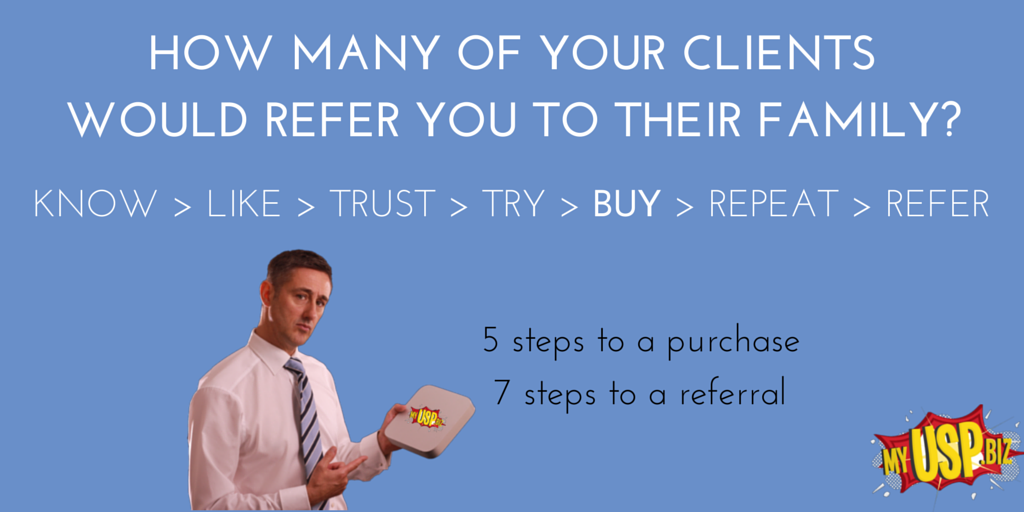 Do you have steps for each stage of this process? If not you could be missing out on a lot of sales by asking people to buy far too early and then writing them off when they don't. If you maintained contact they may well purchase from you in the future.
My own 7-step model here at myUSP looks something like this:
NETWORKING > ARTICLE > MY BOOK > COMPLIMENTARY WORKSHOP > PAID WORKSHOP > 2ND PAID WORKSHOP OR 1-2-1 COACHING > ASK FOR REFERRAL IN POST SALES MEETING.
If you want to know what your buyers are REALLY thinking see my recent article by clicking here. 2-3 minute read time.
Find the author at:
Web:
Blog:
Twitter:
LinkedIn:
Google+:
Facebook: